MB attended the B20 Indonesia Summit, the official dialogue forum for the international business community, to share their strategies and expectations with the G20 governments.
As an official delegate, Jan Rohweder, CEO of MB, shared our vision of digitalization in different sectors and how it also applies to digital marketing activities.
In this document, we will share key insights, outlooks and experiences with you to support you and your business in navigating through the next years of global digital transformation efforts. 
One important note before we begin: we would like to thank and congratulate the Indonesian Chamber of Commerce and Industry (KADIN Indonesia) for their kind hospitality and exceptional organization of the summit.
Setting the stage for the B20 Summit Indonesia
Indonesia is one of the first countries that held both the B20 and G20 summits at the same location. By sharing resources across both summits, they were able to provide an impressive setting and were better able to connect government delegates with business delegates right from the start.
The summit was opened by Shinta Widjaja Kamdani, Chair of B20 Indonesia. Her message was clear: after several global crises, it is now time for industry leaders and governments to empower MSMEs (Micro, Small and Medium Enterprises) with the information and tools to enable post-crisis growth. 
"B20 Indonesia is prioritizing innovation to unlock post-crisis growth. This includes opening up digital opportunities across the economy, expanding cooperation for better cybercrime response, and increasing funds for green infrastructure through a blended finance mechanism."
(Source: B20 COMMUNIQUE)
These words encapsulated the theme of the entire summit.
What was discussed during the B20 Summit?
The B20 Summit Indonesia offered a wide range of speakers and panelists with contrasting professional backgrounds. Most joined in person, while some participated remotely. Here's an overview of some of the most impressive talks and presentations:
1. Anne Hathaway, UN Women Goodwill Ambassador, on unlocking the full potential of women in the economy
Although none were immune from the effects of the pandemic, it's true to say that women faced additional challenges. Statistically, the majority of children around the world are cared for primarily by women. During the pandemic, many of these women had to continue doing this while also working from home. This contribution to the global economy has neither been honored publicly, nor has there been any financial relief for this public service.
The goal of the UN is not to foster a public consensus that men and women are equal, but rather to ensure that women are suitably appreciated and honored for the services they provide to modern society. If you have not seen Anne Hathaway's speech yet, we recommend watching it here:
2. Justin Trudeau, Prime Minister of Canada, on the role of the digital economy and industry 4.0 in accelerating a just energy transition.
While Justin Trudeau's speech was heavily focused on Canadian and Indonesian relations, the most impressive part of his speech was his clear and categorical statement against the war waged by Russia against Ukraine. Unlike other politicians, Trudeau directly requested that Russia "stop the brutal war against Ukraine and its civilians".
This was especially powerful given that Bali, and Indonesia in general, continue to maintain close economic relationships with Russia despite the outbreak of war. (Source: Bloomberg)
3. Elon Musk, CEO of Tesla Inc, on navigating future disruption of global technological innovation
Elon Musk joined the summit remotely and was available to answer questions around the topic of global digital transformation.
The most interesting part was his answer to a question on the possibility of flying cars being developed and used in the future. Unlike many who dream of a future where flying cars are commonplace, Musk does not think that they have a future in our society. He highlighted two key concerns: first, the technology used for drones is simply too loud to be used widely in urban areas, and second, there are significant privacy concerns. Since flying cars would fly relatively low over private estates, they could destroy the outdoor privacy that residents enjoy today.
As the founder of The Boring Company, his alternative vision for modern cities involves tunnels. Musk said that there are almost no limits when drilling below the surface and that this would overcome the privacy and noise concerns posed by flying cars for urban residents.
4. Changpeng Zhao, CEO of Binance, on investing in future tech talents, technology and financial resources
Changpeng Zhao, also known as CZ, was interviewed on stage during the B20 Summit. Despite the bankruptcy of their main rival FTX five days prior to the summit, he was able to cover lots of different topics related to cryptocurrencies and blockchain.
For us, the most interesting takeaways came from his answers regarding the accountability of businesses in the cryptocurrency space and the taxation of the industry.
He asked governments to provide licenses for businesses in the industry more easily so that businesses are not forced to operate offshore. At the same time, when licenses are issued, governments would then have a pathway to request data and therefore reduce the risk of fraud.
CZ understands the need for taxation. However, he strongly advocates against taxing cryptocurrency transactions. Instead, he believes that crypto businesses should pay corporate taxes as this would contribute to tax revenues without damaging the accessibility of cryptocurrency to the public.
Key Takeaways of the B20 Indonesia Summit
The B20 Indonesia Summit was a unique event with global business leaders from a multitude of different industries in attendance. Every B20 summit ends with a formal procedure during which the B20 committee hands over the requests and visions of the industries to the G20 governments. 
At MB, we are heavily focused on strengthening our Digital Transformation efforts, both for us and our clients. Therefore, we would like to focus on the digital transformation requests that were made by the B20 delegates.
The B20 called on the G20 to:
Accelerate green and just transition
This includes the reduction of coal usage, adoption of sustainable mining practices, definition of clear targets for carbon emissions, support for green infrastructure and ease of access to carbon trade.
Enable implementation of sustainable business practices in MSMEs
This request involves educating and supporting businesses on sustainability principles, fostering funding options from private and public institutions for MSMEs and their energy transition activities, and increasing infrastructure accessibility for households and MSMEs in rural and urban areas to facilitate the adoption of clean and modern energy sources.
Ensure digital innovations are people-centered, responsible, and safe
Technology must be developed in line with clearly defined cybersecurity policies and protocols to better meet changing business needs and balance the benefits and negative effects of emerging technologies.
What legacy projects remain after the B20 Indonesia Summit?
The summit enabled businesses, like MB, to connect with like-minded business leaders and government delegates with the ultimate goal of making digital transformation accessible to everyone. Beyond that, the B20 working groups established four legacy programs to further this goal:
Carbon Knowledge Hub (https://b20-carbon-excellence.org/): The B20 Indonesia Legacy Program: Carbon Centre of Excellence, or in short, the Carbon Knowledge Hub, shares key information about carbon trading, basic information about carbon emissions and best practices.
B20 Wiki: This is a platform that allows MSMEs to access information required to excel in the global business community.
One Global Women Empowerment: This is a platform that allows women around the world to access information and gain opportunities to escape poverty.
Global One Shot Campaign: This campaign takes advantage of next-generation vaccines to help to make preventable diseases history. Read the white paper here.
The B20 Outlook - India 2023
From December 2022 until November 2023, India will hold the G20 presidency, and with that comes the responsibility to host the B20 summit. The B20 India 2023 will be organized by the B20 India Secretariat, a working group under the Confederation of Indian Industry. It will seek to reinforce the business needs established in Indonesia and highlight the business transformation efforts required by the global business community to ensure a better, more sustainable future.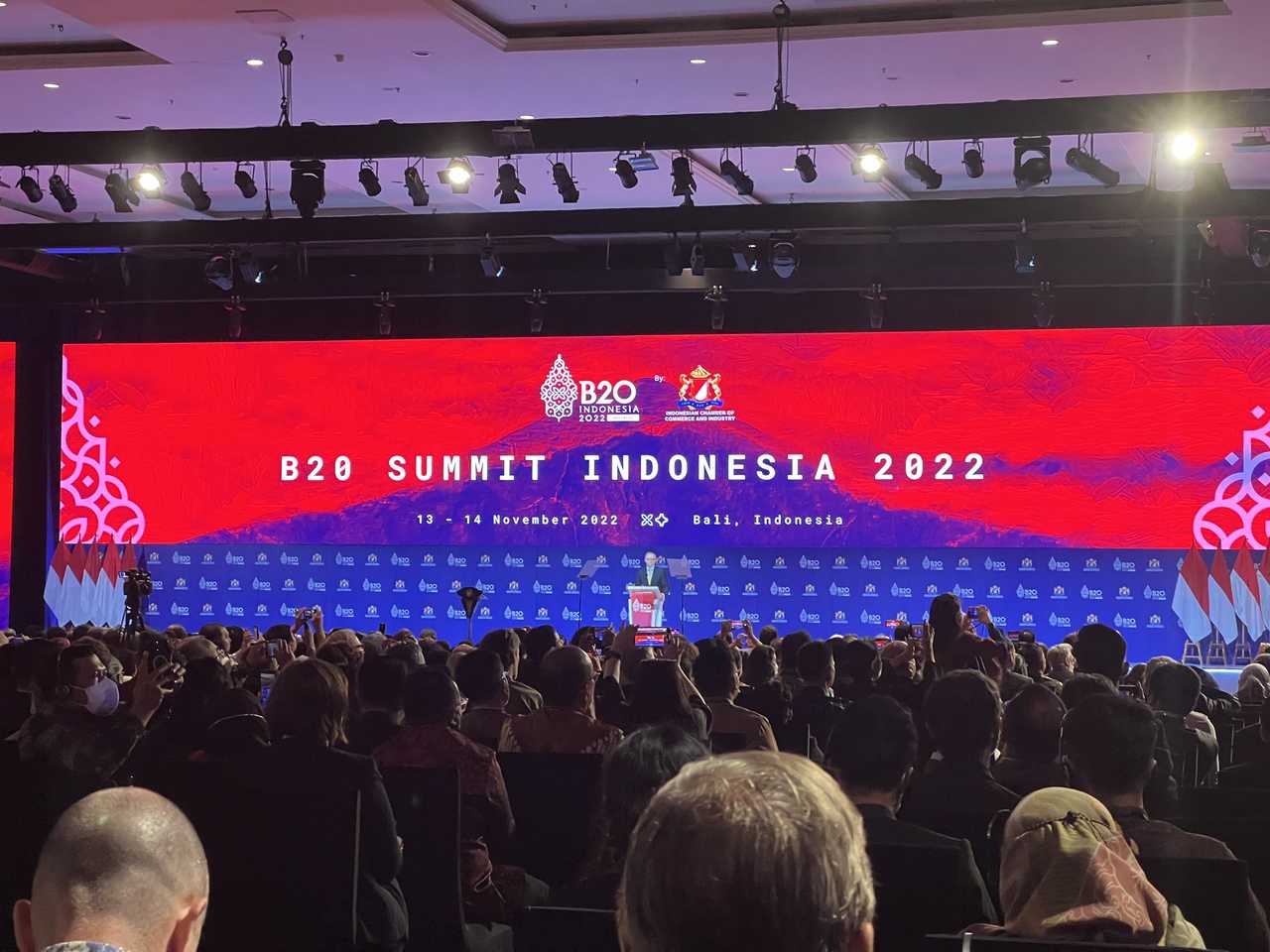 What has changed for MB since the B20 Indonesia Summit?
MB has been supporting globally operating enterprises with more than just marketing since 2019. We are committed to having a positive impact on our planet and the community we are living in. Exchanging ideas with industry and government officials has further strengthened our position to become a frontrunner in providing digital transformation services to SMEs and larger enterprises. For MB, achieving carbon neutrality or net-zero emissions with our business partners means increasing efficiency and global competitiveness.
To highlight our commitment to digital transformation, MB has made the following adjustments to its course of business:
Reducing the carbon footprint of MB's own operations: During the next 12 months, we will take action to reduce our carbon footprint, with the ultimate goal of becoming carbon neutral by December 2023. The following actions are in the pipeline:

No more printed business cards: While we currently still have some printed business cards in stock, we will no longer print new ones. If you meet MB team members, they will present you their digital business cards.
No more office printouts: We are going to reduce printouts in our office to only legally-necessary documents. To achieve this, we are going to implement tools to collect legally binding signatures digitally.
New client requirements: Going forward, we pledge to work only with businesses that have similar transformation and carbon footprint aspirations as us.

Restructuring MB's operation: Upon evaluation of the past few years, we will restructure our own operations and service offerings to focus on efficiency and scalability. We expect that our decision to stop some services, such as custom web or app development projects, will allow us to increase efficiency and performance in our other service offerings. The restructuring process is scheduled to be completed by April 2023 and will ultimately increase our global competitiveness.
Key Partnerships: On the service-delivery front, MB is already working with key partners in different industries. In 2023, we will increase our efforts to become partners with existing globally operating services and consultation providers to enable additional growth through our expertise and services. 
To underline our efforts toward efficiency and digital transformation, we will no longer use the name Marketing Bear, but simply refer to ourselves as MB. 
Thank you for reading the MB B20 Indonesia Summit Debrief. If you are interested in how your business or organization can work more efficiently and join the global business community in its digital transformation efforts, please contact us. As a Microsoft Partner, we can provide you with consultancy services and assist with the implementation of technology that can help to reduce your operation's carbon footprint.
Our digital marketing experts are ready to help.
Fill out the form below and our team will be in contact with you.
If you are interested in more details about the B20 Indonesia Summit, you can access all B20 policy recommendations here. 
Gallery of MB at the B20 Summit