Marketing Bear (MB), a Microsoft Partner, is excited to announce the availability of Microsoft Teams Premium, a solution designed to meet the needs of organizations looking for advanced meeting capabilities and a way to consolidate their software investments. With more than 400 new features and improvements added to Microsoft Teams last year and many more in 2023, all Teams users can count on continued innovation to deepen connections and foster collaboration.
Many organizations pay for meeting solutions and purchase expensive add-on products for webinars, virtual appointments, meeting intelligence, and more. With Teams Premium, customers can get these advanced meeting capabilities and more for one low cost of USD10 per user per month.
If you want to test the new features, take advantage of our 30-day free trial of Microsoft Teams Premium for up to 25 users. Contact us for more information.
Microsoft Teams Premium Features
Microsoft Teams Premium comes loaded with new features that we at MB will start using immediately. Here are some of the features we are most excited about:
Integration with OpenAI's ChatGPT
As one of the major investors in OpenAI, the company behind the revolutionary AI ChatGPT, Microsoft has started to incorporate ChatGPT (If you want to learn how we are using ChatGPT in our daily business, click here) features directly into Microsoft Teams Premium.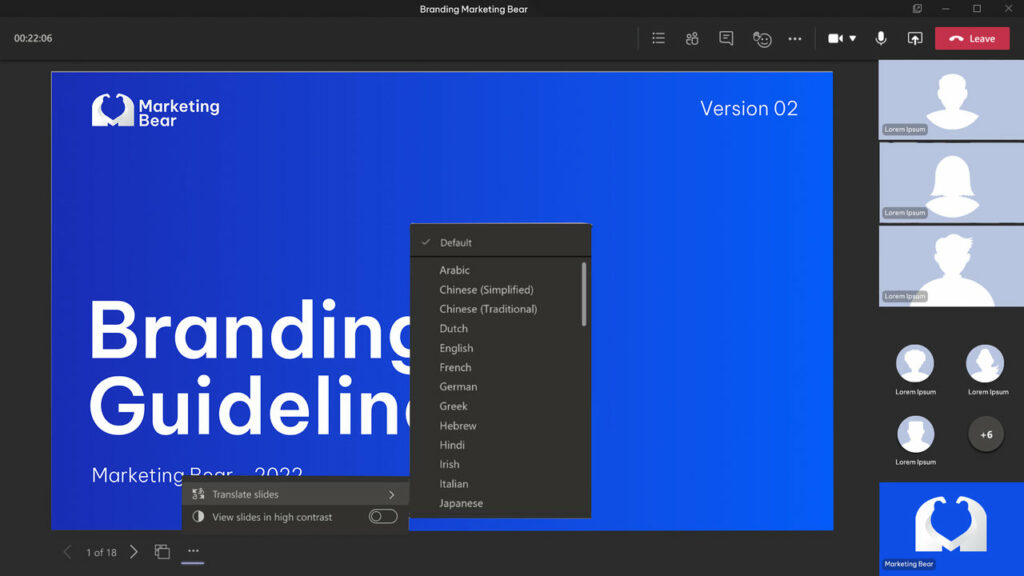 Live Translations: Our team is international, and while most of us speak a fair amount of English, Live Translations are changing how we work internally and communicate with clients. Now everyone can speak in their native languages, and the other meeting participants see subtitles in their native languages in real-time.
Intelligent Recap: Most popular online meeting tools support automatic captions. Usually, these captions are available after a recorded meeting has ended. With Intelligent Recap, you can now get smarter captions. They summarize the entire meeting and highlight to-dos for individual meeting participants. No more note-taking; now, everyone can focus on the meeting.
Timeline Markers and Chapters: At MB, we sometimes share recorded meetings with team members that were not in the meeting. E.g., our key account executives talk to our clients, and they ask for a service to be provided. Then our operations team watches the meeting recording to add the task to our pipeline. Sometimes meetings get lengthy. So rewatching the entire meeting can be a time-consuming, inefficient task. With automatic Timeline Markers and Chapters, Microsoft Teams Premium splits the meetings into sections automatically, making it easy for anyone to find the important part of the meeting.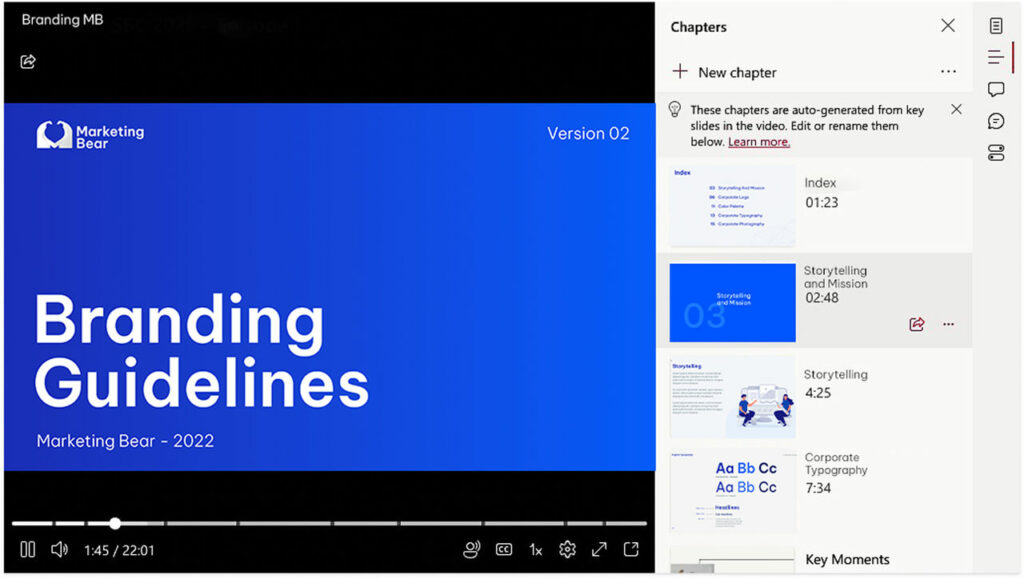 Tackling Calendly with Virtual Appointments
We love Microsoft Teams, but to be fair, its appointment functionalities are limited. This is why we are using Calendly as a more innovative way to make client appointments. Now with Teams Premium and its Virtual Appointments feature, we can incorporate the advanced features we got used to from Calendly directly in Teams. This will save us not only time but also licensing fees with Calendly.
Branded Meetings
With Microsoft Teams Premium, you can add your corporate identity to meeting invites. This includes utilizing your logo, custom background,s and corporate colors during meetings to create a better brand experience. In addition, your IT team (or the MB IT experts) can set up corporate branded meeting backgrounds for all your team members. This ensures a unified brand experience when team members meet with clients or other parties.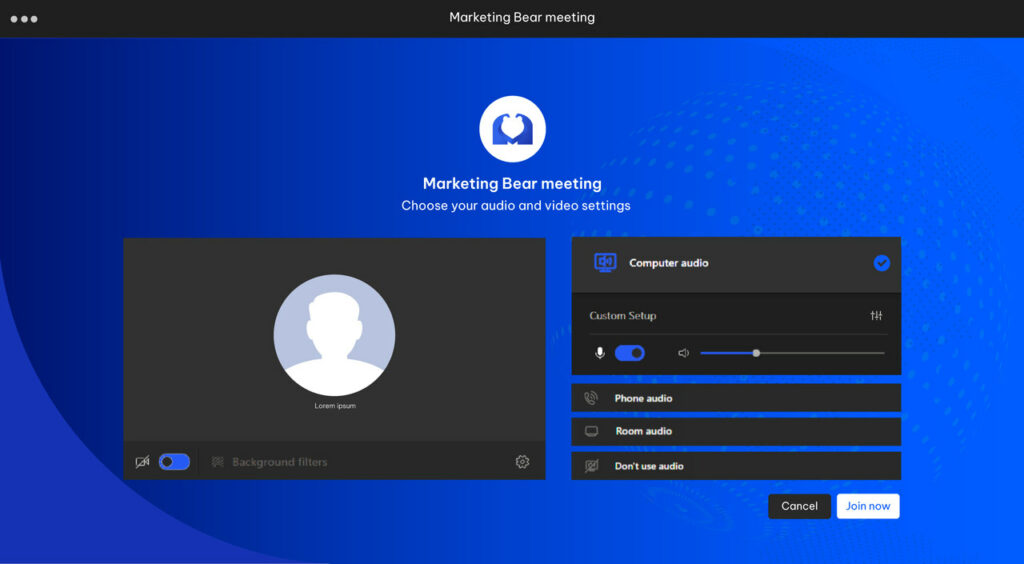 Meeting Templates
You can now set up different meeting templates that cover various meetings. These meeting templates can be configured to automatically set specific permissions in a meeting or include apps (e.g., to support brainstorming activities).
Upgraded Protection for Confidential Meetings
Microsoft Teams Premium now lets you add additional security features to your meetings. The following features are the most significant for us at MB:
End-to-end Encryption (E2EE): You can now enable end-to-end encryption for your meetings. Ensuring no data can get leaked on the way.
Limit Recording Options: With improved control over who can record meetings, you can ensure that some discussions stay private.
Meeting Watermarks: You can now add a custom watermark to meeting recordings to prevent third parties from misusing your meeting content.
MB Pro Tip: Only the meeting organizers need to use Microsoft Teams Premium for all meeting participants to benefit from the new features.
Test Microsoft Teams Premium Today – For Free
While Microsoft offers Teams Premium for a limited time at a reduced rate of 7.00 USD/user/month, we are proud to announce that we offer a 30-day free trial for up to 25 users. MB's team of Microsoft-certified experts is available to assist with implementing, integrating, and optimizing Teams Premium, ensuring that businesses get the most out of this innovative solution.
Contact MB today to learn more about Microsoft Teams Premium and how it can help your organization achieve its goals. Get started with your 30-day free trial and see the difference for yourself.
To read more about Microsoft Teams Premium, go to Microsoft's detailed blog post here.